In this column you will find a brief history of the author – an actor, clown, pedagogue and producer, during the long course of his first 30 years on the international scene; a comprehensive curriculum vitae… for more information and several photos for your casting…
Born in December 1965 in Orléans, Jean Méningault alias Méningue is a clown who practices his works on stage and in street theatre, in solos and with companies, often in Italy but also elsewhere in the world wide.
Méningue is also an actor, an dancer and a mime and several times have played parts in operas. Méningue is a producer; he has often created and directed shows for clown troupes. Méningue is a teacher, a pedagogue who in some blogs is referred to as "the great Master Jean Méningue".
Child is the nickname his friends give him for his tomfoolery, his clowning – about. As a teenager, he was passionate about Hip Hop dancing then he added a comic touch and presented his first numbers on the street, busking, and in theatre. As soon as he reached adult age, he went to Paris and began his first lessons in theatre. He was soon noticed and recited his first roles, danced and sang in a musical comedy by Martial Houvert in Paris and its surrounding regions. He studied dramatic body mime at Etienne Decroux's school and at the Espace theatre and his acting in Paris developed continually.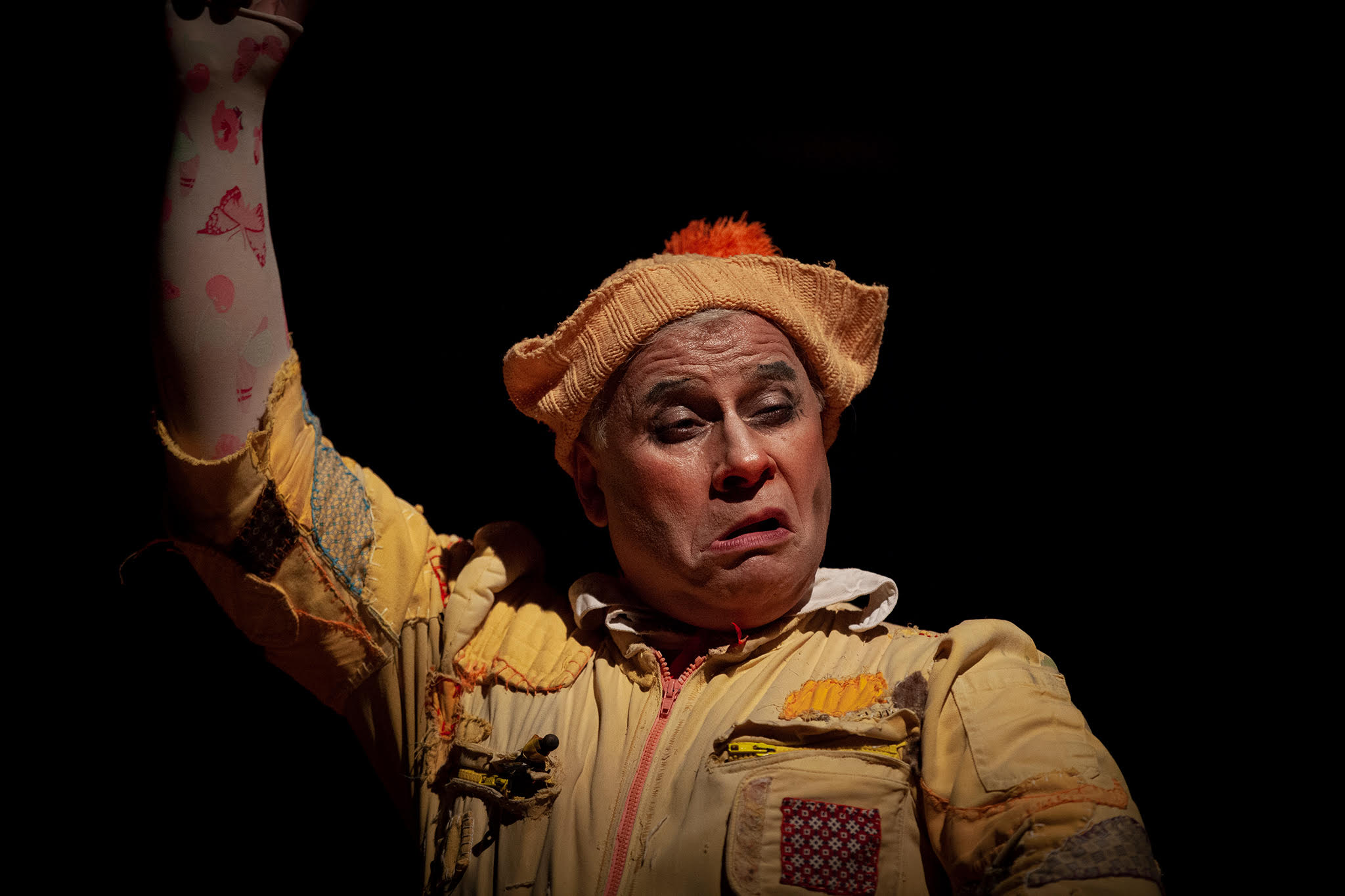 He danced and acted in several contemporary dance productions with the Sylvie Tertre company. Philippe Adrien and Dominique Boissel hired him as a clown in the role of August in the clown quartet, "La Tombola Magique" which performed 200 shows in two years.
In 1990, he created his "One man show", a clown mime, "The Jester of Earth Kingdom" and won many awards at the Comedy Festival. He was the main attraction of the music hall "Paris C'est Fou" by P.Sufu & F.Guignard, and toured in France, Switzerland and Austria. He was the main attraction at the Bobbejaan Schoopen Music Hall in Belgium for six months and toured in many theatres and important festivals (London, Brussels, Görlitz, Barcelona, Milan, Los Angeles, Montreal Just for a Laugh). Then he created "Boufonnerue", a clown performance for street theatre.
In 1992, in Italy, he is the artist who is invited to participate with his conception and shows at the Mirabilandia Theme Park, throughout Italy and also for a multitude of events and in numerous television shows. The following year, having achieved great success, he also became the artistic director, writer and producer of eight shows which he created with eight Italian actors after having taught them for several months.
Noticed by Stefano Salvati, he is recruited for Marco Masini's video clip dedicated to the Federico Fellini film, "La Strada". He then worked for different television programs as well as with Lucio Dalla.
He returned to creating shows in 1995 with Philippe Hottier who recruited him to participate in a research and creation project about actors and clowns which lasted for three years in Montpellier.The clown matured and the man revealed himself also as a teacher and producer.
In 2003, he went to live his first "Tour de France" as clown with his unicycle at the "Relais étapes" with the former champion Henri Anglade. He interprets the role of Mr. Chance in the first hyperrealist cartoon "Realitytoon" by Jean-Yves Chalangeas and Fabrice Mathieu
From 2004, Méningue interprets a clown role created by the German producer, Henning Brockhaus (once the assistant of Giorgio Strelher) in the following operas: Puccini's "Turandot", G.B. Pergolesi's "The Servant Turned Mistress", J.J.Rousseau's "The Village Soothsayer", S. Beckett's "Act Without Words I", and G.Verdi's "Othello".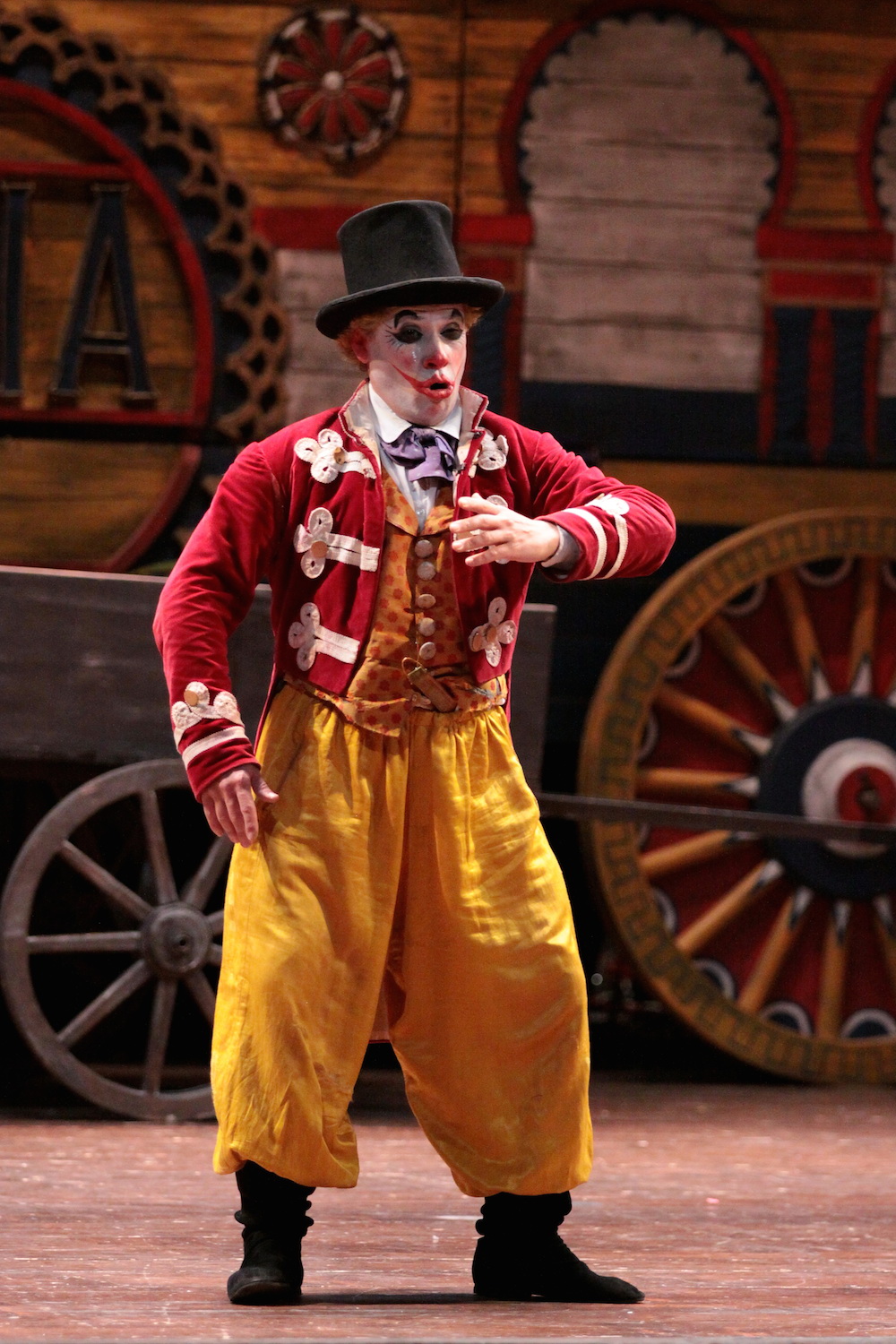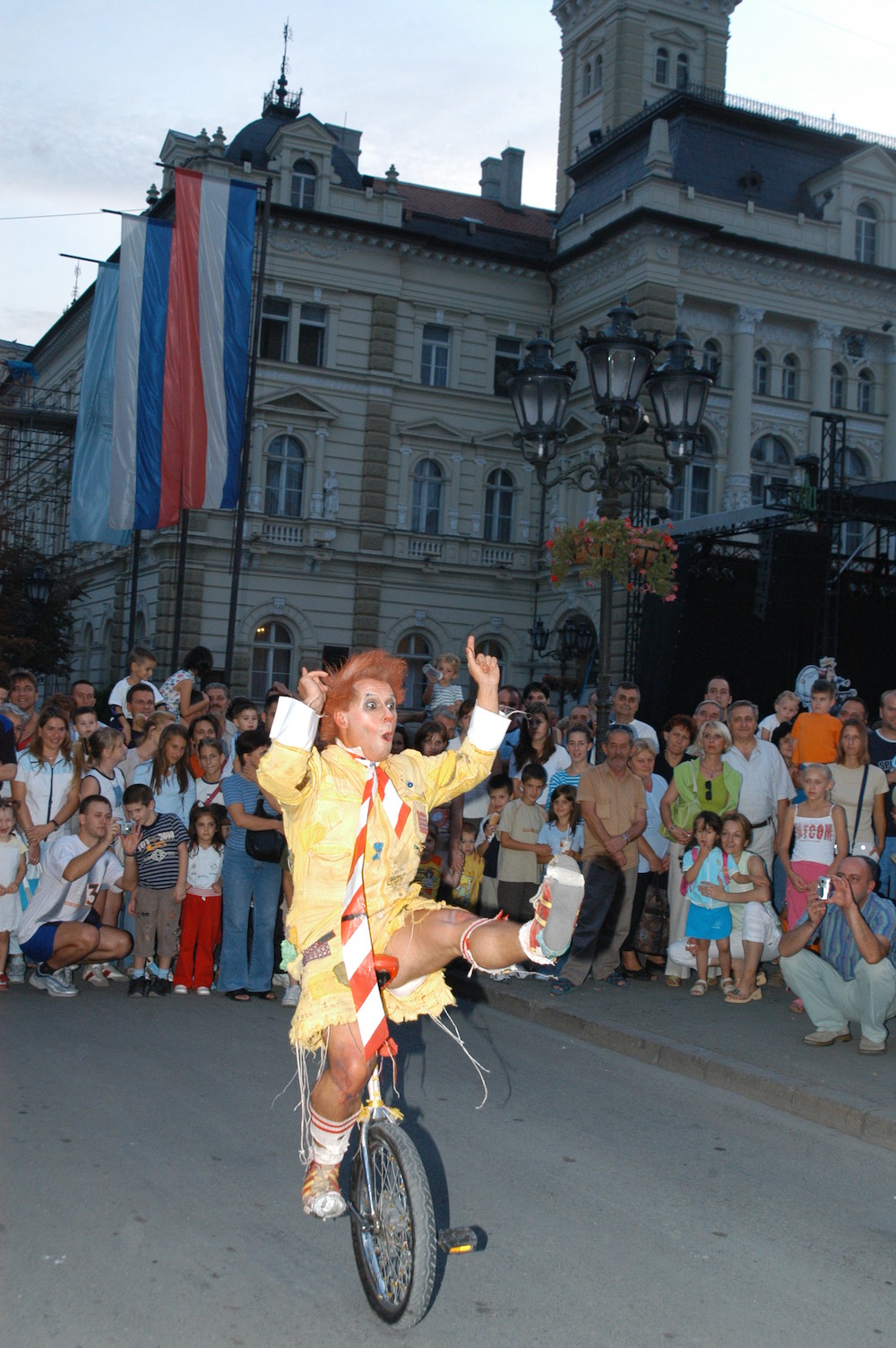 Méningue was invited as artist with the theatre choreography workshop at Panthéâtre by Enrique Pardo & Linda Wise in Paris in 2008. In 2008, 2009 & 2010 he was invited by Josef Nadj for the CCNO in Orléans, giving several workshops titled, "Body Sounds".
He regularly collaborates with Les Têtes de Bois company in Montpellier as producer and actor and recently in "Volpone" (staged by Medhi Benabdelouab) and additionally with Aurachrome company in the "Sandy" show by Bastien Crinon in Orléans, and presently with Gilbert, Elodie Lebigre & Corinne Roger for the new creation of teatre carnevalesque "Il Grande Freddo", Viareggio, Italy.
Meanwhile he continued to tour with his show, "Bouffonnerue" with his new creation "Made in Earth" with:
"Besito" clown trio Lila Theatre Collective, Montpellier, France in 1999.
"Relitti Rieletti" a woman clown solo by Urana Marchesini in 2003.
"Si Va a Mori e Po si Torna" clown choreography with twenty clowns, by Gilbert Lebigre & Corinne Roger, "Carnival Viareggio" in 2007.
"Serata clownesca"; "Retrouvailles" and "teatroclown" created for twelve clowns, Orvieto, Italy in 2006-07-08-09-10-11-12 & 2013.
"Ulysse & penelope" a clown duo by Les Têtes a Bois company, Montpellier, France in 2010.
"Ma Le Cord" a acrobatic clown duo by C'e Chi Cha company, pesaro, Italy in 2011
"La Meccanica della Bellezza", a circus quartet by Malucirco company, and winner of the FNAS Italia final competition, Barcelona, 2010.
"Driiin", a clown duo by Andrea Menozzi, Bologna, Italy in 2012
"Ma La Femina", a clown quartet at Le Sorelline, Italy in 2012.
"The Ballerina" & "The Rhythm of Life" in artistic collaboration with Gilbert, Elodie Lebigre & Corinne roger company for the Celebration of the anniversary of Macao's handover to China in 2012 and 2013.
"Lavori in Corso" a clown sextet by Voci Erranti company, Teatro Milanolo Savigliano, Italy in 2014.
"Bella musicka" clown's solo for a dancer by Italento, Italy 2014.
"L'Chaim alla vita" a clown duo, I Tripollini company, Italy 2015
"Happy birthday mr time" a clown solo, by Elisa Naike, Italy 2016
"Metamorfosi teatro clown" a clown octet, Italy 2017
"Metamorfosi teatro clown" a clown quintet, Italy 2018
"Mr Goodman & Bubbles Hyde" Magical one man show, Italy 2019
"Amar India" Indian dance theater by Lisa Pellegrini, Italy 2019
"Talamanu Errante" a clown woman solo by Emanuela Poggi, Italy 2020/22
"PRR… !" a clown woman solo by Erika Webe, Italy 2020
"Passaggi" dance theater by Lisa Pellegrini and Deda Artusi, Italy 2022