Four recent productions embellished
with most unusual worlds full of poetic meaning.
Shows currently performing, planned schedules.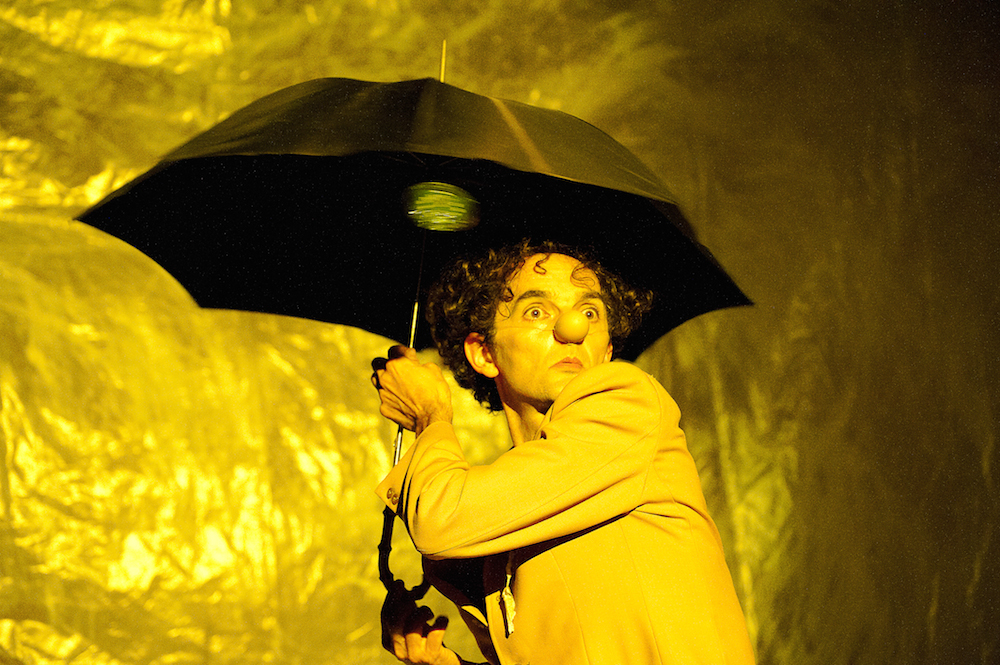 One clown show by and with Andrea Menozzi
DRiiin!!! What is the time that run out for whom lives the moment ? Why the moment is made of an instant ? A clown lives his own time made of moments, moments that bounce in his all body. He manages to imprison the time in the motion, in the moment, living the moment.
On stage few, very few things. An alarm clock, that marks the time indomitable, where the absence of ticking, for a little while create the illusion of not being anymore slave of two inexorable hands… The time desk, place from where everyone passes. From there passes also punctuality, delays, performance, wasted time…
Comedy of minimum gestures, of a body. DRiiin is the closure of a circle… To open other…
After years of collaboration between Andrea and his teacher, Jean Méningue, the need to tighten that teaching in creating a show comes out.
It all started from an improvisation on the time : from there, born the desire of Andrea to deepen the meaning of the time, the magic of its flexibility and rigidity. All through the eyes and the body of a clown. Poetic show where a clown knocks in the time, creates the time, stop the time and for a little while
Created : 2012
Show by and with : Andrea Menozzi
Director : Jean Ménigault "Méningue"
Scenography : Stefania Tosi
Lights : Davide Cavandoli & Elena Piscitilli
Length : 75 minutes
Datasheet on request.