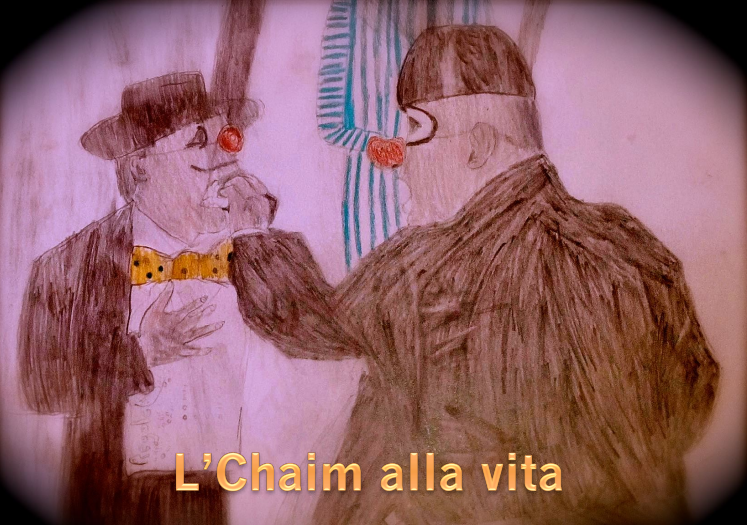 Tour dates
2 February 2018 - Teatro comunale di Lari (Italy)
28 January 2018 - Teatro comunale Don Bosco (Italy)
25 January 2018 - Liceo Orazio, Rome (Italy)
28 October 2016 - biblioteca comunale Arriccia (Italy)
21 May 2016 - Teatro di Nemi (Italy)
30 January 2016 - Teatro di Villa Gori (Italy)
24 January 2016 - Sala della Bandiere Palazzo Rospiglio Zagaralo (Italy)
16 January 2016 - Antico Casale di Colle Ionci, Velletri (Italy)
The Tripolini Clown Company
by and with Franco Passalacqua and Sidney Journo
Pianist: Alessandra Vinci
Violinist: Federico Passalacqua
Lights: Angelo Pasquarelli
With the Director:
Jean Ménigault alias Méningue
Duration of show: 60 mins, open to the general public.
Creation 2014/2016
In the early 1940's, during the period of the Nazi extermination of the masses, millions of human beings were deported to extermination camps. There were members of the Jewish people, Romanies, the Gravely ill, Handicapped, those who opposed the Nazi regime and homosexuals.
The great military conflict and genocide had not long ended when two children from the Varsavia ghetto, concentration camp survivors, are playing in an attic filled with memories of their murdered parents.
Here the children develop the memories of their parents, revisiting the phases of their lives up until the last sad days of their parents' demise. They do this by dressing up as clowns. The clown as a paradoxical being, mad, who expresses human madness with its own mask and body, the human madness that has manifested itself in this great tragedy. With the pure, instinctive emotions of a DE'humanised' being: expressing pain, fear, anger, joy, happiness, melancholy and sadness.
Why the Klezmer music? The repertoire of Klezmer music from the beginning of AD 900 expresses melodies of the lives of the small farming communities that accompanied them; weddings, funerals, births – an extraordinary repertoire that evokes the real sense of life and community. The source of inspiration was Victor E Franlkl's opera and in particular the book, 'A Psychologist in the Concentration Camps' – ''how to give life sense again''.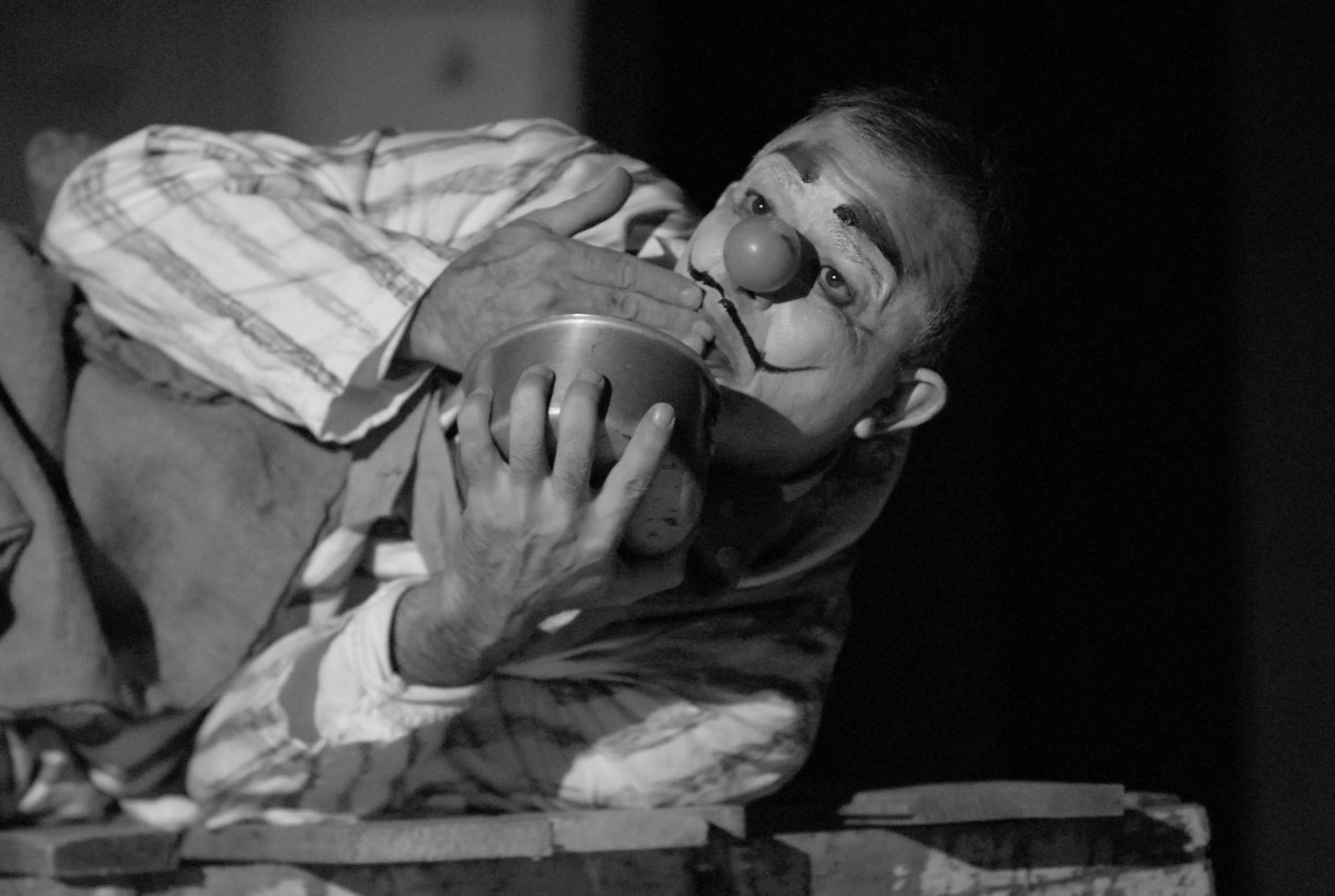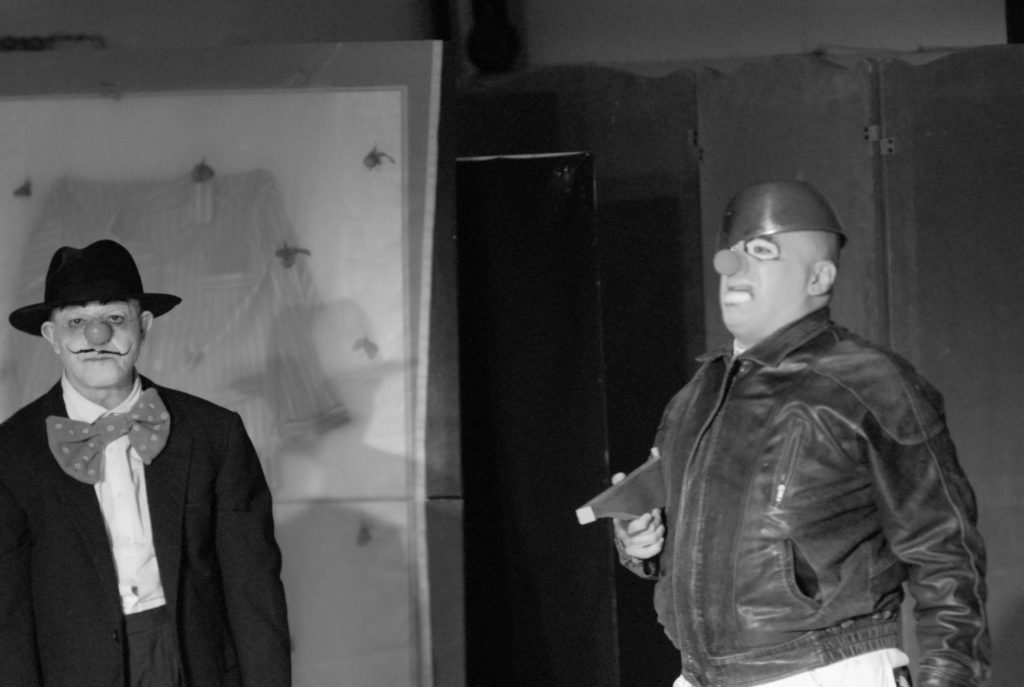 Technical Data
The show can be presented both indoors (theatre, hall, auditorium, gymnasium, etc..) and outdoors (piazzas, gardens, etc..) however the space must be dark.
It can be performed on ground level as well as on a stage however preferably on a stage with grandstand or tiered seating.
For its assembly, the ideal scene size is 6 x 8 metres.
For any other space size, contact the company directly.
The company provides its own audio and lights that need CEE 220V/16A power.
It is necessary to have access for two company vehicles close to the performance to unload the materials.
The vehicles' dimensions are: length – 4 metres / width – 1.9 metres / height 1.7 metres. Assembly takes place 4 hours before the performance.
Dismantling takes approximately 2 hours.
Contacts:
Passalacqua Francesco
Ph: +39 3200851262
Email: Francesco.passalacqua@beniculturali.it
Sidney Journo: Ph: +39 3493725692
Email: sidney.journo@gmail.com
Facebook: Compagnia Tripolini (page); Francesco Chicco Passalacqua (profile); Sidney Journo (profile).