Meningue interprets diverse roles as clown and actor
in his four operas and in the intermezzo in an act from Samuel Beckett.
Shows currently performing, planned schedules.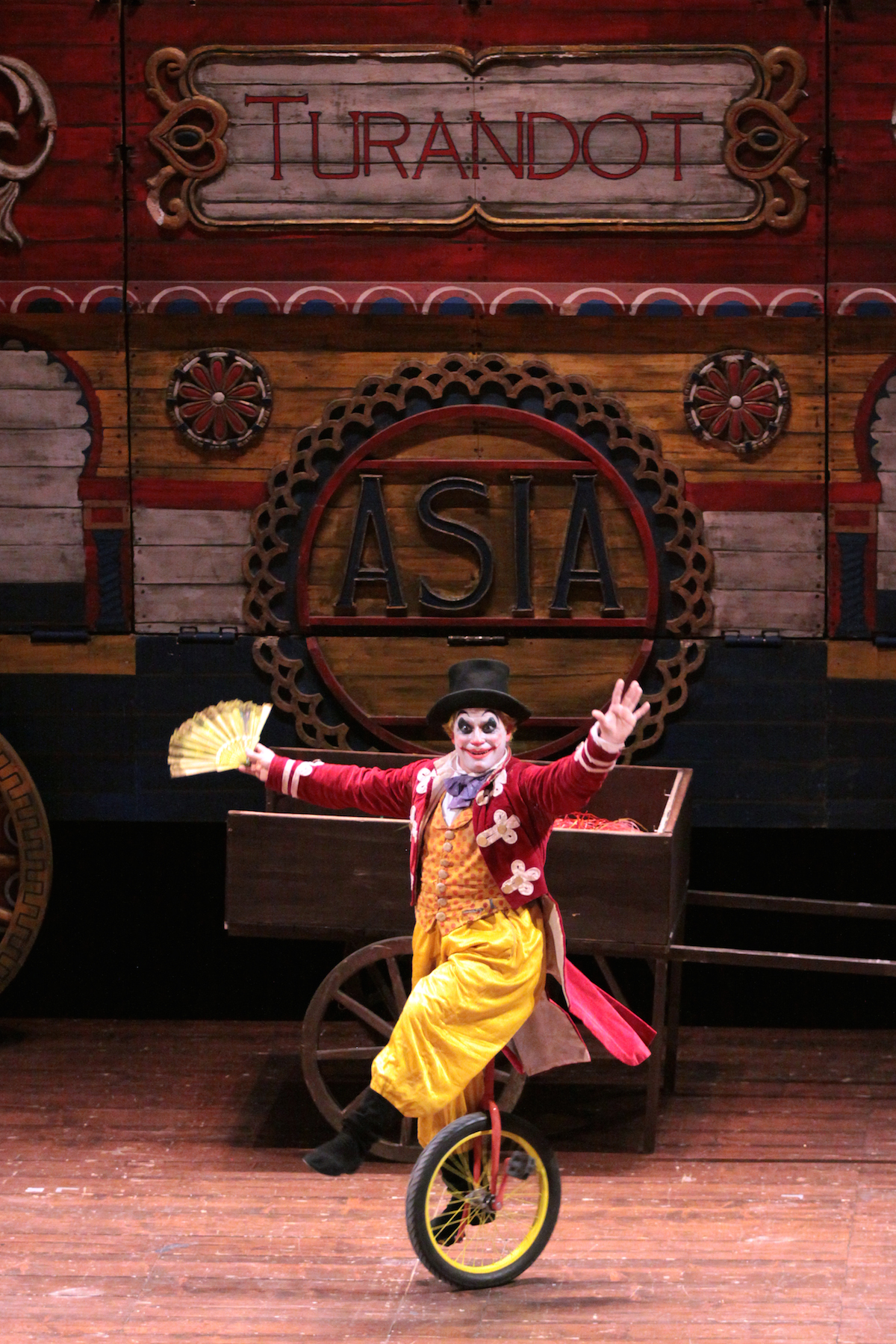 Opera in three acts and five tables G.Puccini
Méningue interprets the role of a clown who is a circus director and the director of the fairy tale. This role, that does not exist in the libretto, was created by the director, Henning Brockhaus, for his fairy tale like work.
In this celebrated opera, Turandot by Giacomo Puccini, the German director,Henning Brockhaus, wanted to create a fairy tale like the theatre version of Carlo Gozzi (1764 ) which inspired G.Puccini. The director wanted to show how the fairy tale of Turandot is created … An autobiographical Turandot, theatre within theatre.
Henning Brockhaus created a unique prologue in which we find ourselves at a country festival in Italy in the 1920″s that changes into a Chinese festival with the arrival of the circus where Méningue becomes the clown, the narattor-mime of this Chinese spectacle which is created in front of our very eyes.
Produced by the Rome Opera Theatre, "Teatro dell'Opera di Roma" and presented at theThermal Baths of Caracalla, "Terme di Caracalla" in 2006 & 2007. New creation at the Tokyo New National Opera, "Nuovo Nazionale Opera di Tokyo" (Japan); and at the Rovigo Social Theatre, "Teatro Sociale di Rovigo", and then on national tour in 2008 & 2009.
Stage director : Henning Brockhaus
Libretto by: G.Adami and R.Simoni
Sets : Ezio Toffoluti
Costumes : Stefania Tosi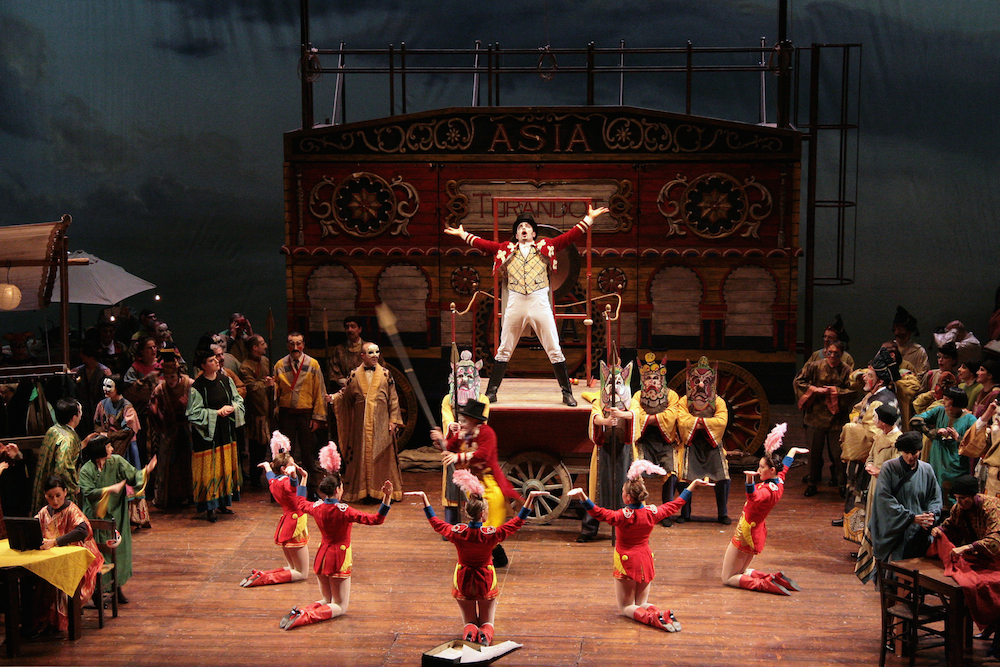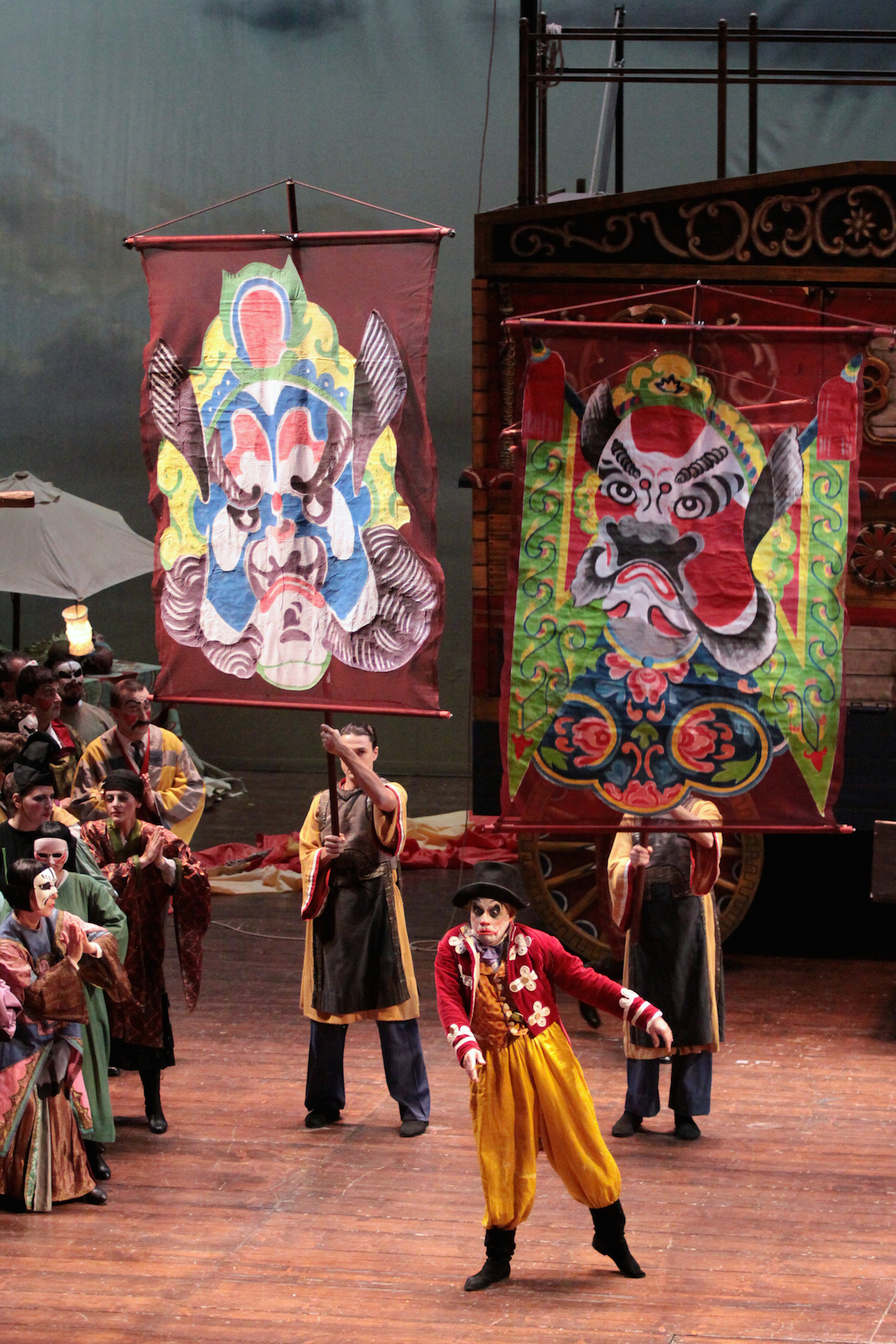 Excellent singer song-writers... the whole troupe including Jean Méningue, a wonderful clown
Of substance Jean Méning's rehearsal in the role of clown inserted by Brockhaus, capably unifies the scenic transformation introduced by the German producer, in a magical way.
... the actors pass from reality to dream thanks to the charismatic and fascinating demiurge clown who transforms and modifies everything… Jean Méningue in the role of clown, bridge between fairy tales and reality and the expression of the true essence of theatre.
The clown, the excellent Jean Méningue , distributes the masks; becomes the "scene choreographer", accompanying the movements; sounding out the choruses, the dancers, the singers themselves.