Tour dates
2 October 2023 - 7 October 2023 - Agriturismo del Montevaso (Italy)
27 May 2023 - Lido di Camaiore (Italy)
1 January 2020 - Casino Perla & Casino Park (Slovenia)
31 December 2019 - Casino Perla & Casino Park (Slovenia)
11 May 2019 - Festival ARTinCIRCO (Italy)
4 May 2019 - Festival ARTinCIRCO (Italy)
1 May 2019 - Festival ARTinCIRCO (Italy)
1 January 2019 - Casino Perla & Casino Park (Slovenia)
31 December 2018 - Casino Perla & Casino Park (Slovenia)
26 August 2018 - Festival Senzafili (Italy)
25 August 2018 - Festival Senzafili (Italy)
24 June 2018 - FanArt on Street (Italy)
1 January 2018 - Casino Perla & Casino Park (Slovenia)
31 December 2017 - Casino Perla & Casino Park (Slovenia)
30 December 2017 - Casino Perla & Casino Park (Slovenia)
19 October 2017 - Royal Prestige (Italy)
19 October 2017 - Torri di Quartesolo (Italy)
3 September 2017 - Festival Ulicnih Sviraça (Serbia)
2 September 2017 - Festival Ulicnih Sviraça (Serbia)
Instantaneous improvised theatrics
Clown Performance in an urban environment
The street scene took a step forward...
The other facet of Méningue's expression is a street theatre performance that, leaning on an actor's talents, finds spontaneity and depth in an improvisation constructed on a meticulous canvas from which Méningue takes all the opportunities that present themselves to him to show us we are marked, branded by a consumerist society…
Evolving Clown Creation – 1992
By and With : Méningue
Length : 30 – 40 minutes for each show
Bouffonnerue – more than 1,200 performances in Europe and worldwide.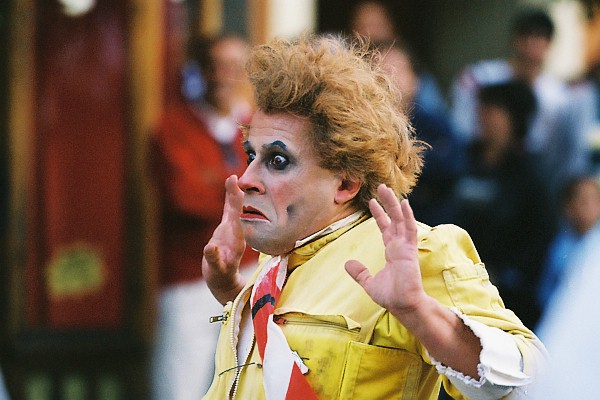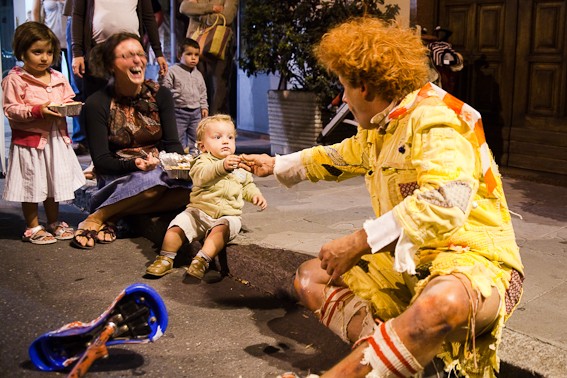 Jean Ménigault alias "Méningue" (from Orleans, France), is truly a grand clown, special guest of leading festivals in his field, notably "Special guest star" in theatre and opera as performer and also as writer and producer at the "Teatro dell'Opera di Roma" (Rome Opera Theatre) and "Opera di Tokio, Giappone" (Tokyo Opera Theatre, Japan). In Italy he worked with many artists such as; Lucio Dalla,Gianni Morandi,Gianna Nannini and Marco Masini, as clown and performance writer created ad hoc during the exhibitions, both in theatre and on television. For Jean Méningue, street theatre means spontaneity and freedom of movement and his strange character, a clown who came from who knows where, roams the streets and there he chances upon whatever destiny wishes him to meet. A clown mime–actor with a puzzled look, a sarcastic smile but of a playful nature, kind and never out of place who in search of a rapport with the audience, unearths, creates and constructs paradoxical situations, unexpected and entertaining, in which his extraordinary gifts of improvisation come to life. A surprising encounter for all but the most surprising thing always seems to be the way in which he sees us.