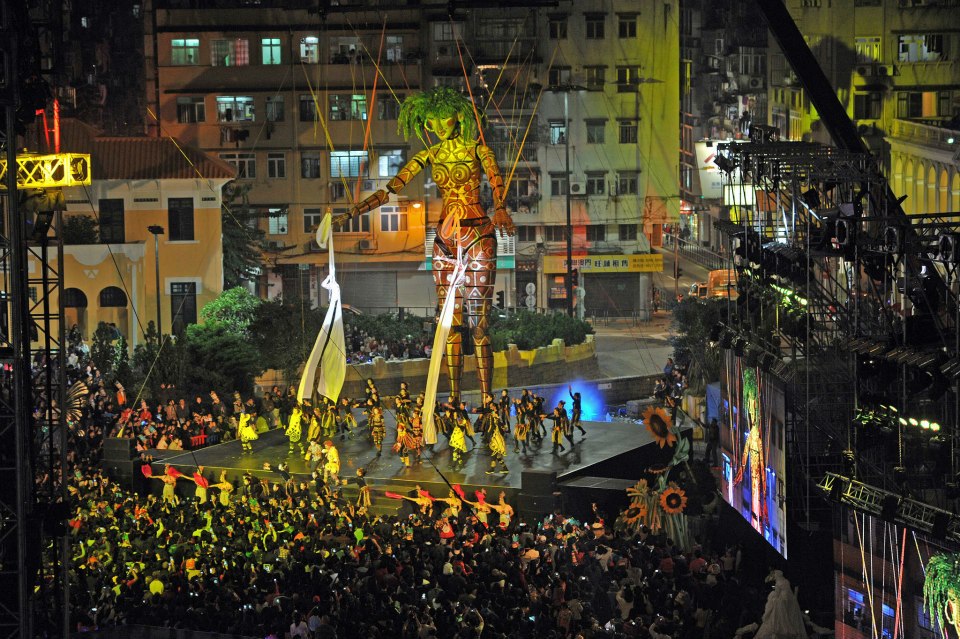 PARADE THROUGH MACAO LATIN CITY
from 20/12/2012 to 26/12/2012.
The company, Compagnia di Lebigre & Roger, artists invited to the celebrations for the thirteenth anniversary of Macao's return to China
After its long sea voyage, it was the first to arrive at Macao. The Ballerina, a gigantic marionette 18 metres tall. Because of her contours, her fiber, her aura and for all that she emanates, she surprises and bewitches us, drawing all into her billowy magnetic dance with her gigantic hands.
The company presented an unprecedented show structured around the imposing marionette, "La Ballerina". Held together by wires, she awakes gently to the rhythm of the steps of ballerinas and her resident acrobats who know and adore her.
A visual spectacle of immense proportions danced and recited by the actors and with Jean Méningue as clown narrator; by the aerial acrobats ; by numerous puppeteers from the company and joined on stage by around sixty marvellous young ballerinas from Macao.
The company presented its show for the major event of the celebration of the anniversary at Tap Seac Square then continued as the solo show for a week, becoming the Diva of Macao.
Méningue partly participated in the writing and stage production during the theatrical components of the show with twenty dancing performers and puppeteers from the company.