Meningue interprets diverse roles as clown and actor
in his four operas and in the intermezzo in an act from Samuel Beckett.
Shows currently performing, planned schedules.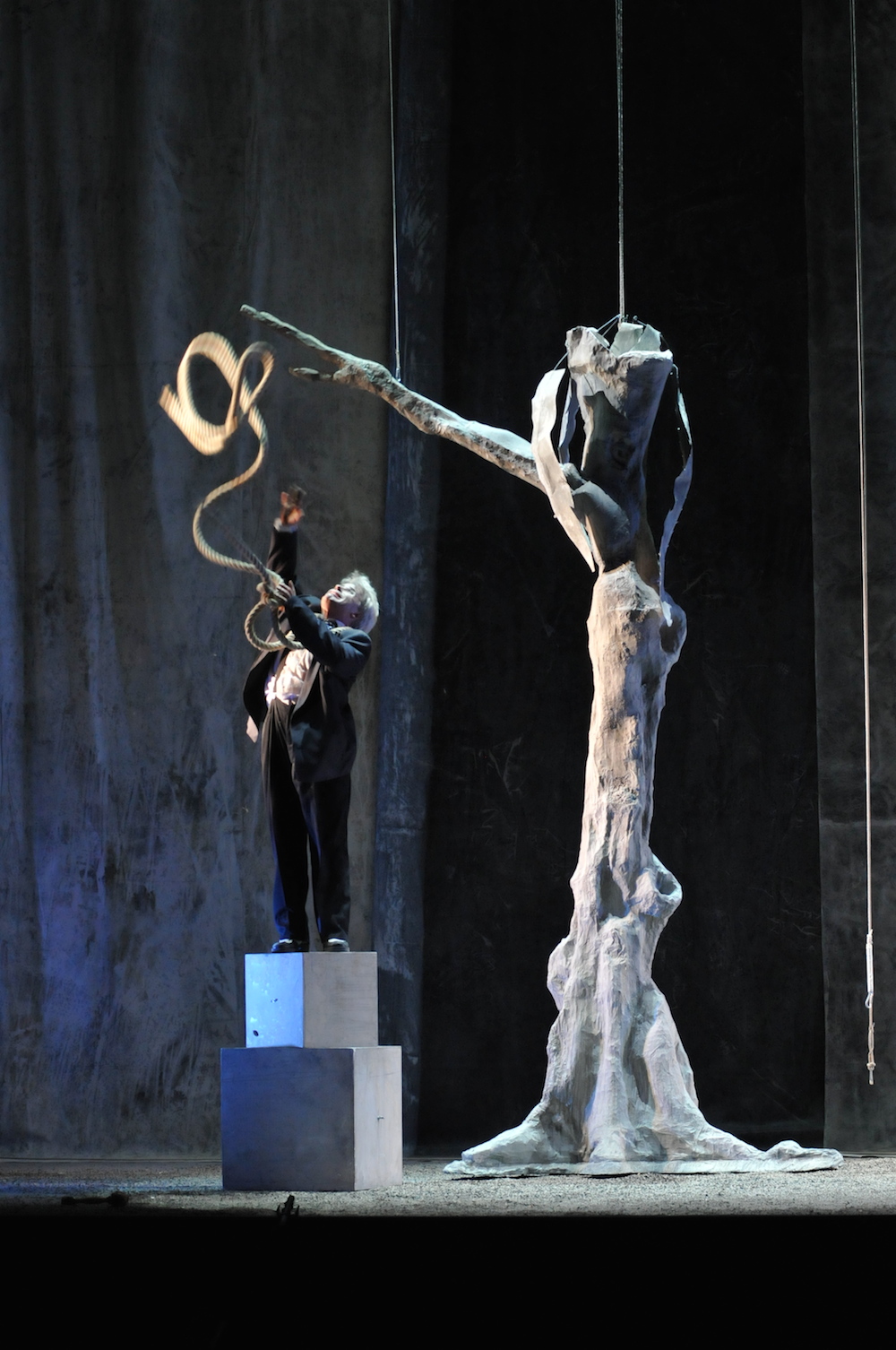 Méningue interprets A Man in the intermezzo, La Serva Padrona, with the direction of Henning Brockhaus.
The scene, Act Without Words I, consists of a deserted wilderness lit up by a blinding light. At its centre is a single person: a man who folds and unfolds a handkerchief, the only equipment he has. At the beginning of the sole act, the man is pushed violently from the right of the stage. The man is thrust onto the stage just as man is thrust into the world.
Created for the 11th edition of the Pergolesi Spontini Festival , Jesi -Italy- September 2011
Stage director : Henning Brockhaus
Musical Interpretation : Paolo Marzocchi
"The Man" : Jean Méningue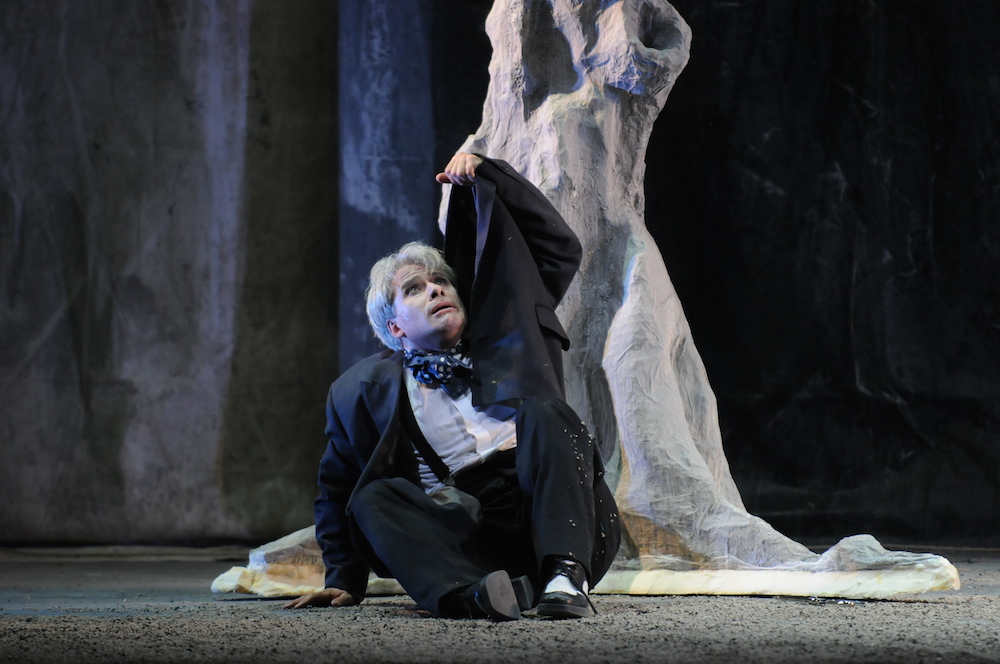 "Act Without Words 1": Jean Méningue has interpreted the magnificent "The Man", perfectly, espressing all its surreal and oppressive aspects; the audience showed their appreciation with great applause.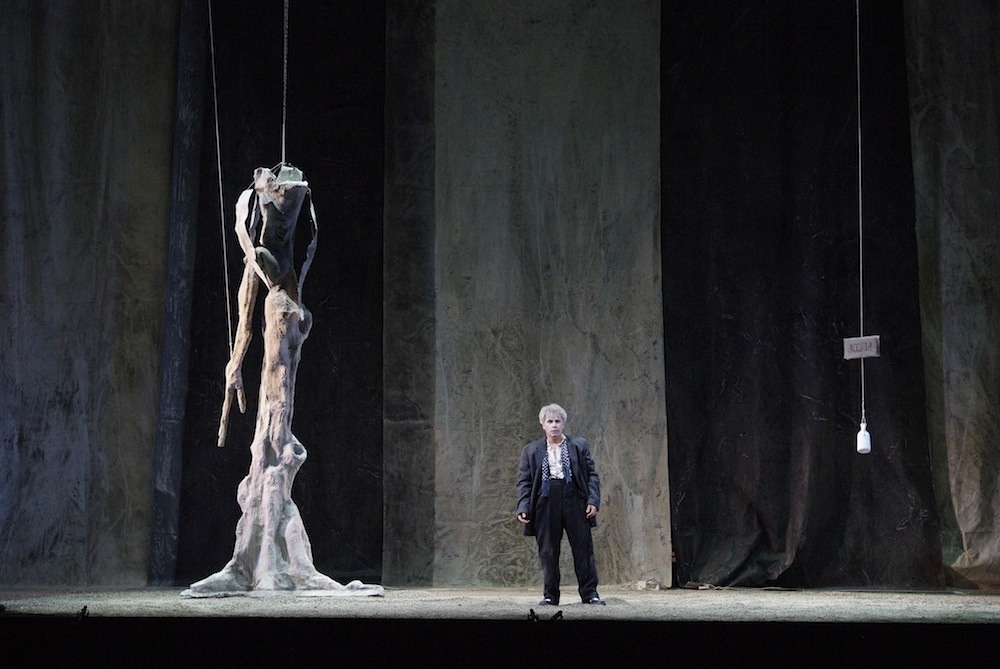 In the middle of the two parts, (intermezzo in an intermezzo), Beckett's "Act Without Words I" is interpreted by the talented mime, Jean Méningue.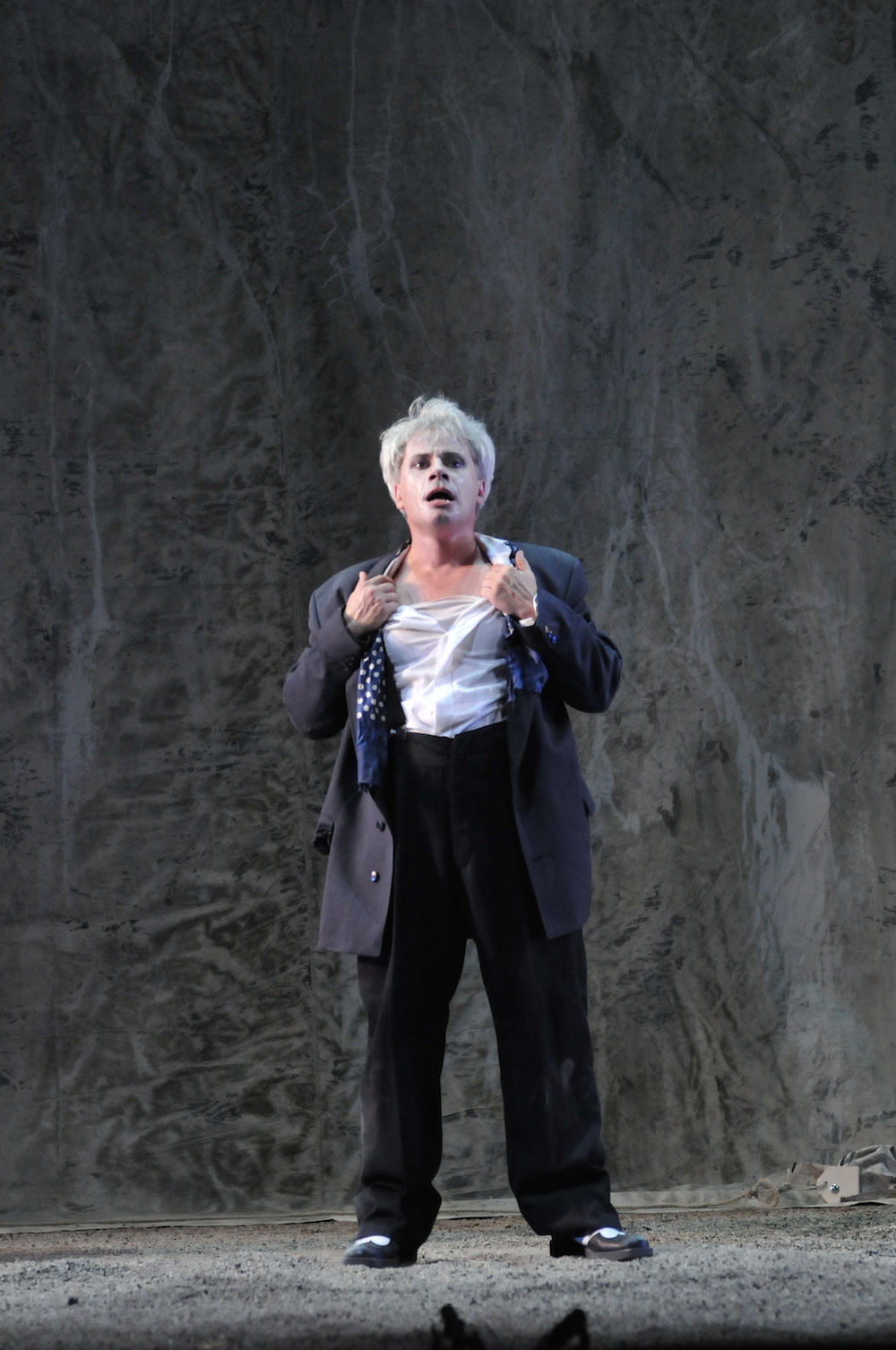 At Jesi, was the great protagonist, the French mime Jean Méningue - The "Serva Padrona" meets Beckett'; the Pergolesi's masterpiece under the direction of Brockhaus... It is however, the French clown, Jean Méningue, who is the real star performer of the evening. With extraordinary acting quality he has reduced Vespone to a mere mute mask and, up against the sole character of Beckett's work, he has given it back all its lightning vividness and its disturbing dramatic subtext.
The hyphen between Pergolesi , Beckett and the clown, Vespone alias the circus clown, at the circus where the "La Serva Padrona" unfolds. It is a pleasantly surreal circus where a lion tamer is tamed by a clever Serpina who good-naturedly makes fun of her loved one. She plays without malice and into the game enters her friend, Vespone. He becomes the protagonist of the theatre of the absurd and then returns to the reassuring (maybe) convention of seventh century theatre. It is nothing and yet everything... But the key player is Jean Méningue indeed Vespone, a mime in the 2004 edition; on this present occasion he is Vespone and "L'Uomo"; sensational absorbing actor who shows himself in command of theproposed solution and transports the audience who willingly offer him an enthusiastic applause, a just crowning of an important evening.
Alessandra Marianelli and Carlo Lepore are faultless, the former with a gracious voice and a diction of perfect clarity, the latter a good singer and actor full of verve. But the true hero of the evening is Jean Ménigault alias Méningue: this French multi-talented artist (clown, mime, dancer, juggler...), charismatic and convincing actor, dominates the scene both as Vespone and as the main actor in "Atto Senza Parole"