Meningue interprets diverse roles as clown and actor in his four operas and in the intermezzo in an act from Samuel Beckett. Shows currently performing, planned schedules.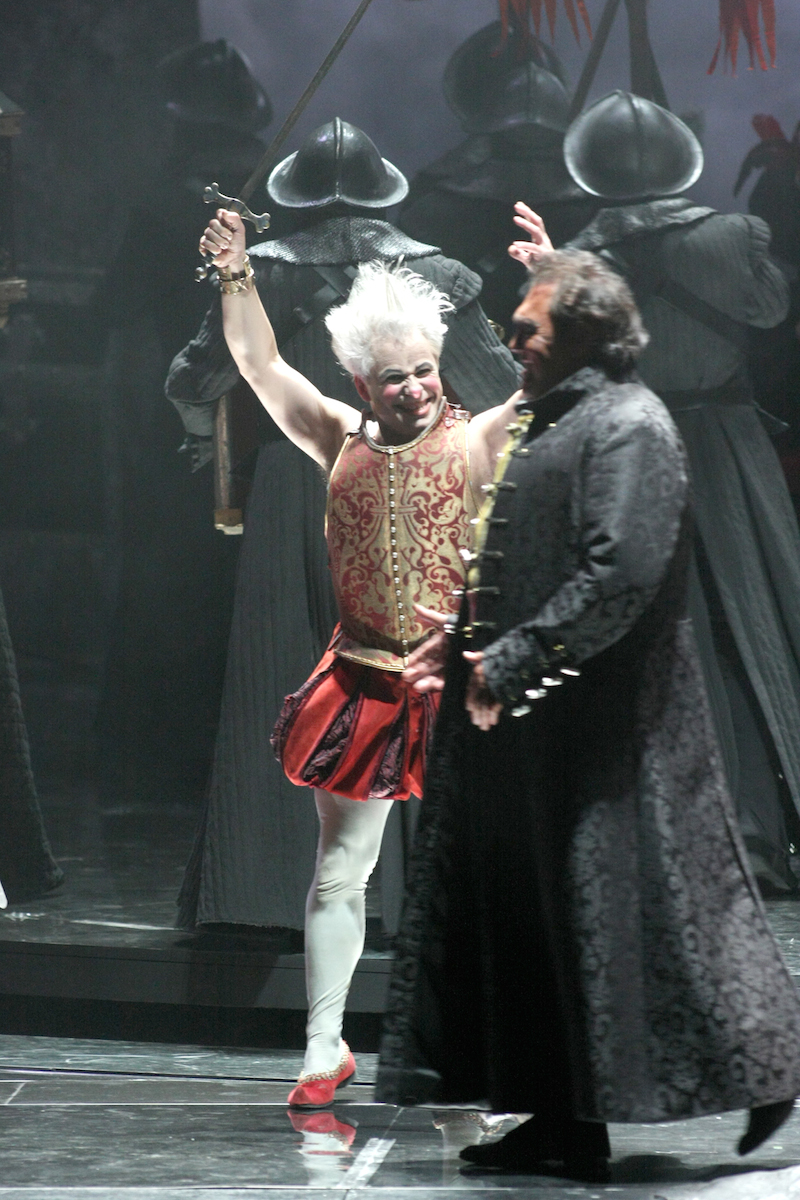 Opera in four acts by Giuseppe Verdi
Méningue interprets a new role of clown not written in the libretto. An understated and tragic clown whose red nose becomes the mask on his dark skin in this Shakespeare.
The director, Henning Brockhaus invented this clown role as Othello's double who metaphorically reflects his own tormented thoughts and hallucinations…
To magnify this double reflection of the inner thoughts of the main characters, Méningue is accompanied on stage by around ten actors & mimes and is the creator of their scenes and miming gestures.
This opera is a lyrical drama of the illustrious Italian composer, Verdi and was composed in 1887 at La Scala opera theatre in Milan after the drama of the same name by William Shakespeare.
This opera was conceived with the collaboration of the celebrated and poet, Arrigo Boito. The story takes place on the island of Cyprus at the moment in which the war commander, Othello, finds his woman, Desdemona, again. But the young moor commander will soon suffer the cost of the voracious hate of his lieutenant, Lago, who little by little instils the venom of doubt in his commander's spirit, convincing him that his woman, Desdemona is betraying him with his other lieutenant, Cassio.
Created in co-production with the Massimo Theatre of Palermo and the San Carlo Theatre of Naples in 2014
Musical direction : Nicola Luisotti
Stage Production : Henning Brockhaus
Ripresa : Valentina Escobar
Stage scenes : Nicola Rubertelli
Costumes : Patricia Toffolutti
Lighting : Alessandro Carletti
Mime movements : Jean Méningue
Othello : Gustavo Porta, Kristian Benedikt, Marius Vlad, Marco Berti,
Desdemona : Julianna Di Giacomo ; Lana Kos ; Lianna Haroutounian
Jago : Giovanni Meoni ; Elia Fabian ; Roberto Frontali
Cassio : Giuseppe Varano ; Alessandro Liberatore
Lodovico : Manrico Signorini ; Seung Pil Choi
Montano : Maurizio Lo Piccolo ; Ventseslav Anastasov
Emila : Anna Malavasi
Roderigo : Pietro Picone ; Antonello Ceron
An Araldo : Riccardo Schiro' ; Vincenzo Raso ; Antonio Di Matteo ; Giuseppe Scarico
The Clown : Jean Méningue
Orchestra, choir and children's choir of the Theatre Massimo and San Carlo Theatre.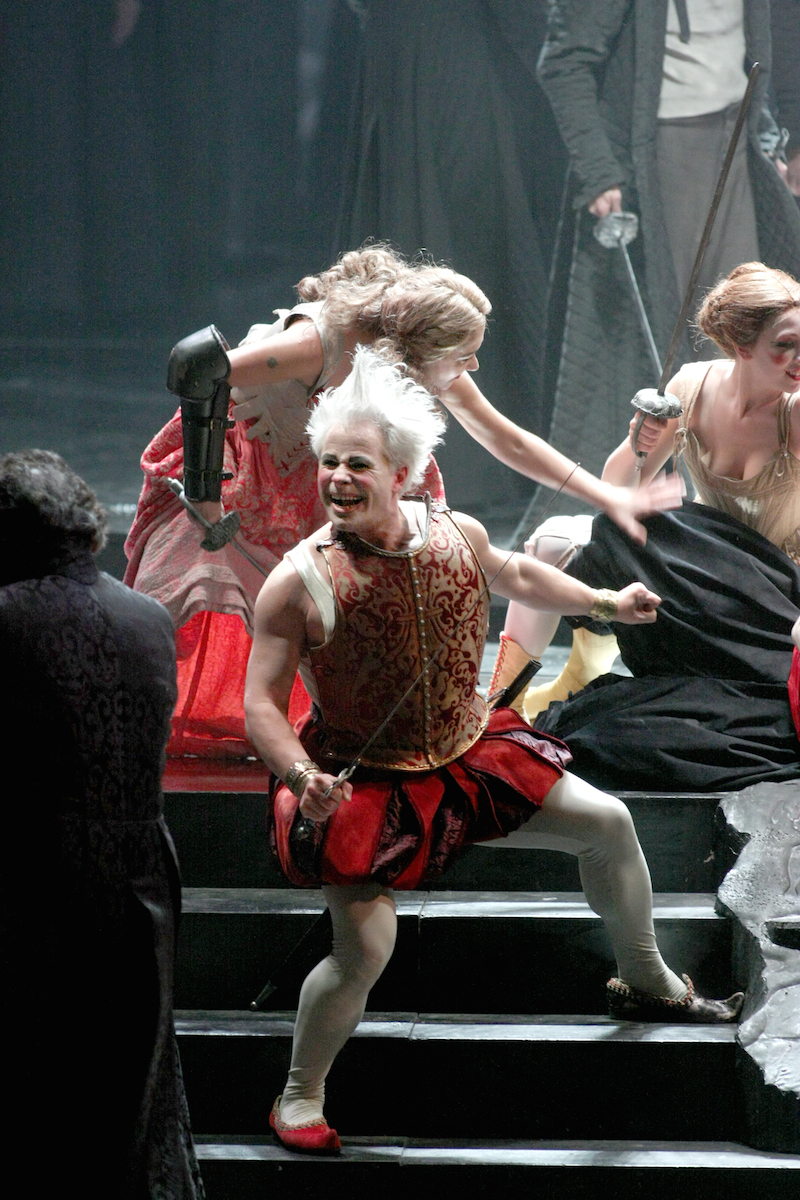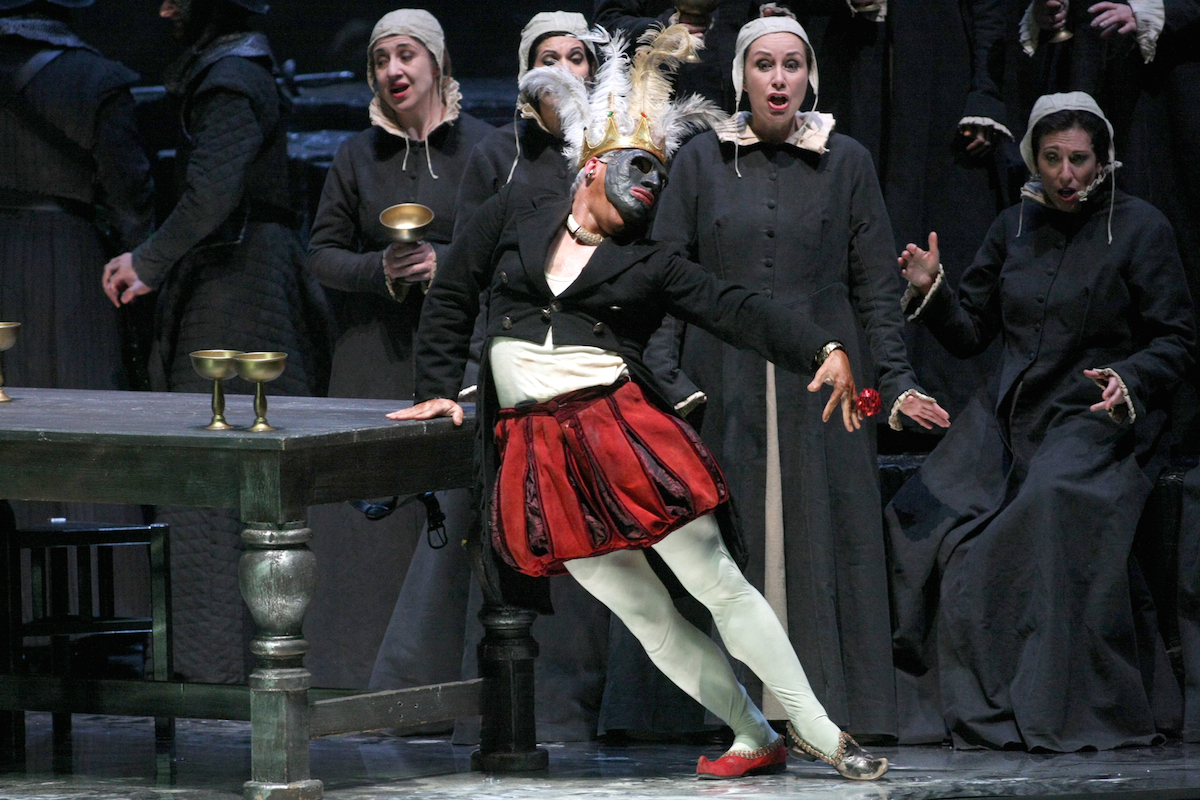 Standing out are the clown figures and the masks evocative of the Venice carnival that are often present in the scenes during the entire presentation with its elegant choreography (the miming movements were directed by Jean Méningue, also acting as clown in the show), here displaying the essence of theatre, here materialising the anxious hidden memories and thoughts of the lead players and expressing the thoughts of a two-fold conscience and the inner person of the characters (like the evil thoughts that invade Othello's mind which materialise at the beginning of the third act.)
Momentous presences in the opera's management are those of the mimes whose movements have been directed by Jean Méningue who is also on stage in the guise of a clown.