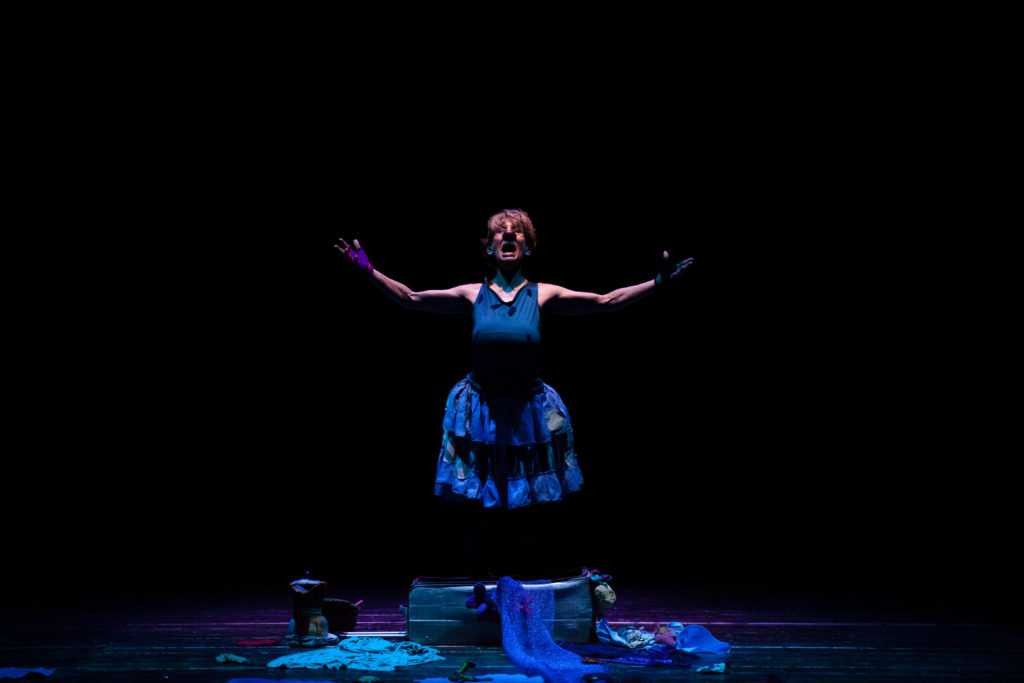 Tour dates
5 February 2023 - Teatro di Lari (Italy)
7 January 2022 - Teatro Nuovo de Pise (Italy)
A clowness solo
by Emanuela Poggi and Jean Ménigault alias Méningue with Emanuela Poggi
Creation 2022
Direction by Jean Ménigault alias Méningue.
Music by Andrea Maracci.
Stage props by Alessandra Giribaldi.
Duration approx 60 mins – general public viewing – age 7 up
Talamanù is a vagabond who travels around the world with her suitcase; she dresses in whatever she finds. On her suitcase are imprinted stories of the people she has met during her travels, beyond the confines of nations and languages.
Talamanù expresses herself in her own unique way, simply, with few words and some enchanting tricks.
Like others who do not fit in with the rules of organised society, she busies herself with basic needs; feeding herself before all else; finding a place to rest; being at peace.
For Talamanù, everything has a soul and her cloth objects, the only wealth she possesses, are alive with their own character; she loves them.
Her intimate spirit transforms and invents, valuing what she has, enjoying them to the full.
Talamanù has an awkward body however she knows how to move with speed when there is urgency, and slowly when she imagines and creates.
Her secret is to believe that the display is a continual change and adjustment; that all is possible, since much more exists than what we see.
In the show, Talamanù confronts the tragedy of refugees left to drift on the sea. Using every humane resource she possesses, she rescues them.
From her heart she tells us that peace is created, before all else, by an internal disarming and by activating that spontaneous humanity that each of us carries within.
Technical Data
Stage and theatre dimensions:
5 x5 metres minimum
Audio:
cd reader and 2 panoramic microphones
Lights:
6 pc 500 watt and 2 pc 1000 watt